Mary Ann Miller Estate
7234 Kristine Dr. Fort Wayne, IN 46835
Mon, Oct 4, 6:00 PM
GREAT STARTER OR RETIREMENT HOME LOCATED JUST OFF ROTHMAN AND THE MAPLECREST ROAD CORRIDOR. NEAR I-469. A LITTLE REDECORATING AND THIS ONE IS READY TO GO. COME TAKE A LOOK AND BUY AT AUCTION
Jerry Ehle
Phone: 866-340-0445
Email: [javascript protected email address]
Mike Roy
Phone: 260-437-5428
Email: [javascript protected email address]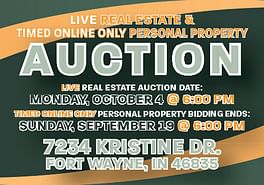 REAL ESTATE AUCTION - HOME - ALLEN COUNTY, INDIANA
7234 Kristine Dr. Fort Wayne, IN 46835 - Allen County, IN
Owner: Mary Ann Miller Estate
Mon, Oct 4, 6:00 PM
PROPERTY LOCATION
7234 Kristine Dr. Fort Wayne, IN 46835
AUCTION LOCATION
7234 Kristine Dr. Fort Wayne, IN 46835
PROPERTY DESCRIPTION
GREAT STARTER OR RETIREMENT HOME LOCATED JUST OFF ROTHMAN AND THE MAPLECREST ROAD CORRIDOR. NEAR I-469. A LITTLE REDECORATING AND THIS ONE IS READY TO GO. COME TAKE A LOOK AND BUY AT AUCTION
960 SQUARE FOOT HOME

CRAWL SPACE

(2) NEW WALL AIR CONDITIONING UNITS

16X25 CONCRETE REAR PATIO

8X2 GARDEN SHED

NEWER GARAGE DOOR AND OPENER

PARTIAL BRICK FRONT

ALUMINUM SIDING

LARGE OPEN KITCHEN

NEW FRIGIDAIRE WALL OVEN

Terms & Conditions:
PROCEDURE: The property will be offered at oral auction.

DOWN PAYMENT: $1,500 down payment on the day of auction with the balance in cash at closing. The down payment may be made in the form of cash, cashier's check, personal check or corporate check. YOUR BIDDING IS NOT CONDITIONAL ON FINANCING, so be sure you have arranged financing, if needed, and are capable of paying cash at closing.

ACCEPTANCE OF BID PRICES: The successful bidder will be required to enter into a purchase agreement at the auction site immediately following the close of the auction. Seller reserves the right to reject any and all bids.

EVIDENCE OF TITLE: Seller shall provide an owner's title insurance policy in the amount of the purchase price. Preliminary title work has been ordered through Titan Title and is available upon request.

DEED: Seller shall provide a Personal Representative's Deed.

CLOSING: The balance of the purchase price is due at closing. The closing shall take place on or before September 16, 2021. Costs for an insured closing shall be shared 50:50 between Buyer(s) and Seller.

POSSESSION: Possession given the day of closing, immediately following the closing.

REAL ESTATE TAXES: Real Estate Taxes will be pro-rated to the day of closing.

SURVEY: A new perimeter survey will be completed only if necessary for closing. The seller and successful bidder shall each pay half (50:50) of the cost of the survey. The type of survey performed shall be at the Seller's option and sufficient for providing title insurance.

AGENCY: Schrader Real Estate & Auction Co. of Fort Wayne, LLC., Inc. and its representatives are exclusive agents of the Seller.

DISCLAIMER AND ABSENCE OF WARRANTIES: All information contained in this brochure and all related materials are subject to the terms and conditions outlined in the Purchase Agreement. The property is being sold on an "AS IS, WHERE IS" basis, and no warranty or representation, either express, or implied, concerning the property is made by the Seller or the Auction Company. All sketches and dimensions in the brochure are approximate. Each potential bidder is responsible for conduct of his or her own independent inspections, investigations, inquiries, and due diligence concerning the property. The information contained in the brochure is subject to verifictaions by all parties relying on it .The Seller or the Auction Company assumes no liability for its accuracy, errors, or omissions. Conduct of the auction and increments of bidding are at the discretion of the Auctioneer. The Seller and Selling Agents reserve the right to preclude any person from bidding if there is any question as to the person's credentials, fitness, etc. All decisions of the Auctioneer are final. ANY ANNOUNCEMENTS MADE THE DAY OF THE SALE TAKE PRECEDENCE OVER PRINTED MATERIAL OR ANY OTHER ORAL STATEMENTS MADE.