The Estate of Sue Ellen Ahlersmeyer
8726 U S Hwy 27 S., Fort Wayne, IN 46816
Sun, Sep 26, 6:00 PM
• Furniture & Household • Antiques • Collectibles • Outdoor & Shop Tools • Lumber
Jerry Ehle
Phone: 866-340-0445
Email: [javascript protected email address]
Mike Roy
Phone: 260-437-5428
Email: [javascript protected email address]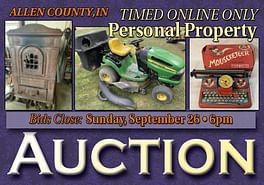 CLICK ON THIS LINK TO START BIDDING


https://schraderfortwayne.hibid.com/catalog/309029/sue-ahlersmeyer-estate/




TIMED ONLINE ONLY - PERSONAL PROPERTY AUCTION IN ALLEN COUNTY, INDIANA
8726 U S Hwy 27 S., Fort Wayne, IN 46816 - Allen County, IN
Owner: The Estate of Sue Ellen Ahlersmeyer
Sun, Sep 26, 6:00 PM
• Furniture & Household • Antiques • Collectibles • Outdoor & Shop Tools • Lumber
Go to www.SchraderFortWayne.com To Register to Bid and to See List of All Items with Photos. We are still unpacking some boxes from the attics that are from the 50's. This is a very large auction! Come to preview and place your bids. Uncovering quality items every day!
OPEN HOUSE/INSPECTION DATES
Friday, September 24th from 4-6PM
PROPERTY LOCATION
8726 U S Hwy 27 S., Fort Wayne, IN 46816
AUCTION LOCATION
TIMED ONLINE ONLY
EQUIPMENT & PERSONAL PROPERTY
LAWN & GARDEN/TOOLS

John Deere D110 riding mower w/bagger
John Deere LA 115 riding mower w/bagger
Like new leaf vacuum
Several push mowers
Vintage Bolens walking lawn tractor with attachments
Several ladders
Craftsman drill press
Various hand tools, wrenches and sockets
Large quantity garage supplies & hardware
Large quantity dimensional lumber and plywood
Scrap piles
Router and table
Small table saw and joiner

ANTIQUES & COLLECTIBLES

24in X 36in enamel Pratt & Lambert sign
Oak pedestal table with 6 mission chairs
Retro chrome and formica dinette
Several wood dressers
Tonka cow hauler truck, nice condition
Several crocks and crock jugs
Boonton bowls
Hoosier cabinet top only
(2) Peace dollars
Murray pedal tractor with dump trailer
Push plow
Awesome double wash tubs
Several wood crates
Galvanized tubs
PRR railroad lanterns
Early wood sled
Primitive cupboards
Hull & McCoy pottery
FW Horstman oil can
Phelps Dodge wood crate
Old Fort Supply vintage nail aprons
Sinclair and other oil cans
Sausage stuffer and other primitives
Metal scooter
(2)vintage globes
Enamel top table
Vintage toys
Large parlor wood stove
Leather baseball mitts
Large volume costume and gold jewelry
Newer sterling jewelry

APPLIANCES - HOUSEWARES - TOOLS

(2) white refrigerators
42in vintage stove
Speed Queen washer and dryer
Large set wicker furniture
Sofa and loveseat
Bedroom suites
Many dressers, tables and stands
Retro daybed
Large quantity decorator items
Many books
Bookcases
Terms & Conditions:
Auction Terms & Conditions Registration and Payment:

You will need to register with a credit card with Hibid.com. This is a timed online auction only with a soft close format and 10% BUYER'S PREMIUM added to all winning bids. Your credit card on file will AUTOMATICALLY be charged following the close of the auction, NO EXCEPTIONS! Cash and checks will not be accepted. Please make sure the card you registered with is not expired and has a limit that will cover the cost of what you plan to spend. Note, you WILL NOT be charged any credit card fees above and beyond the 10% buyer's premium. A paid invoice will be emailed to you with the email you registered with (check your junk or spam folder if you do not see in your inbox). Please make sure your email is correct as you will not receive your invoice or periodic email notifications, if any, during the bidding period. If you receive your invoice and it shows as unpaid, your credit card was declined. Please call us the following business day regarding your unpaid balance. You CANNOT pickup your items until you have paid in full and receive a paid invoice.

Preview and Inspections:

Preview Date and Time: Thursday September 16th 4pm-6pm. All items will be sold "as is where is" with no physical warranty express or implied. The auction company makes every effort to take multiple pictures, note defects, note dimesons of items, and provide as much information as possible to ensure confidence in bidding. However, a preview date and time has been set and it is the buyer's responsibility to come and inspect the items you wish to bid on. If you are unable to attend, please call the auction company with any questions or concerns before bidding on any items. The auction company is not responsible for items with defects, confusion of the size of an item, or any other characteristics of the items offered for auction.

Auction Close Date and Format:

Items will begin closing on Sunday September 19th at 6:00 PM. This is an online auction only with a soft close format. The soft close time has been set to 1 minute and refers to the amount of time that will be added to a lot if a bid is placed inside of 1 minute. So if a bid is placed between 1 second and 1 minute of the item closing, an extra minute will be added to allow for all potential bidders to bid or get back in. This prevents "sniping" where a person could bid with 1 second remaining and win the item. The bidding procedure has been set to a "maximum bid format". You enter your maximum bid for an item, but it will only increase the bid based on the bidding increments set in this auction which have been posted. Example: the bidding increments for bids up to $25 have been set to $1. If you put a max bid of $25 on an item with no bids, it will put you in at $1. If a person puts a max bid in of $20 the system will put you in automatically for $21. If a person puts a max bid of $30 it will put them in the lead at $27.50 as the bid increments from $25-$100 is $2.50. At this point you would be out and have to raise your max bid. Please be sure to check the bid increment schedule and familiarize yourself with these numbers. In case of a tie bid, the person who was there first will be in the lead. So in the example above, if you have a max bid of $25 on an item and another person puts in a max bid of $25, you would be in the lead at $25, as you were there first. The other bidder would have to raise their max bid to get in the lead. Please contact us if you are unsure of these bidding procedures.

Pickup Dates, Times, and Procedures:

Pickup Dates and Times: Monday September 27th 10am-6pm. Tuesday September 28th 10am-6pm.These pickup dates and times will be strictly enforced. Auction company and its personnel are not responsible for removal and loading of items. Please be sure to bring extra help with loading, especially for large, bulky, and heavy items. This will be strictly enforced, if you show up with not enough help to load and cannot load your items, you will have to come back within the allotted dates and times with adeqaute help for loading. Please be sure to bring a vehicle/trailer that will adeqautely accomodate large items you have purchased or if you have purchased many lots. Please bring dollies/carts, straps, and blankets as we do not provide any of these items. Please contact us with any concerns regarding the size of items, location of items on the proeprty (upstairs, basement, buildings), or any other concerns and we will be happy to answer your questions for a smoother loadout process of your items. Also, we try to supply some boxes, but cannot guarantee there will be boxes or packing material for smaller, fragile items onsite when you come to pickup your items. Please be sure to bring boxes and packing materials for smaller loose items you may have bought. Items not picked up within the allotted dates and times may be subject to forfeiture with NO REFUNDS!